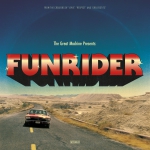 Products description
The legendary debut of MOTHER TONGUE will be released on vinyl for the first time in over 25 years!!!
Unbelievable, but a child of the 90s was only released on CD. We were allowed to re-release the debut in 2004 as a CD with elaborate artwork and in 2016 we released the two Noisolution albums on a beautiful double CD.
Now, on the 25th anniversary of the debut album (and fittingly on our own 25th label anniversary), we will make a dream come true and release the debut album on vinyl for the first time.
And if so, then just right, beautiful and elaborate. As a double LP with etching on side 4, gatefold cover artwork, plus poster and lyrics.
Customers who bought this product also bought the following products:
This Product was added to our catalogue on 13/01/2020.