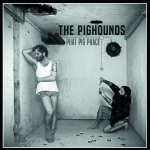 Products description
First edition in white vinyl (Only while supplies last) plus poster and download code.
Clear references in the 90s, but fresh and contemporary. Punk, grunge, alternative rock, riot grrrls between fuzz and heavy riffs and above all always with great choruses and melodies. A snotty album that takes place confidently and recognizably between "Berlin Späti" and sushi store.
Tracklisting:
Bitter Lollipop

Shamebath

Everything Sucks

Head On Collision

Everyman

J.T.

Death To

Topped With Cheese

White Swamp

Outro
This Product was added to our catalogue on 03/06/2022.