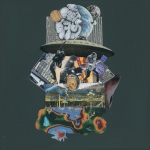 Products description
The ECLIPSED magazine celebrates him and gives him a thick frame around his review as a special tip of the issue. The Roadtrack fanzine explains, "Here comes Grimm from grim, something from" and the Ox fanzine goes into depth and also shows our connection to this artist, singer, guitarist and his debut album: "Tenboi Levinson (HODJA) mixed and Matthias Arbo Klein (REVEREND SHINE SNAKE OIL CO.) was on drums. Gnarly, almost spooky desert blues with a voice that reminds you a bit of Jim Morrison from the DOORS. In the end, a twisted electronic sound reigns supreme. Weird!"
Customers who bought this product also bought the following products:
This Product was added to our catalogue on 03/11/2016.