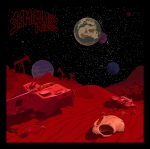 Produktbeschreibung
Daily Thompson - God Of Spinoza - CD (8-seitiges Digipack)

Kaum ein Jahr nachdem DAILY THOMPSON ihr Album "Oumuamua" veröffentlicht haben, legen sie den nächsten Longplayer auf den Plattenteller.
War der Vorgänger noch heavy, spacig und hypnotisch, hat "God Of Spinoza" weitere Nuancen in der Klangpalette. Tiefenentspannt schleicht sich 90er Jahre Alternativerock in den schweren Fuzz-Psychedelic-Blues. Pixies, Dinosaur jr oder Sonic Youth werden in 5, 6 Minuten Tracks zermalmt und durch den Big Muff Super Fuzz gejagd. Ein perfekt runtergekühlter Soundtrack für Isolation, Quarantäne und soziale Leere. Ein kopfnickender Audio-Cruise durch leere Großstadtstraßen.
Kunden, die diesen Artikel kauften, haben auch folgende Artikel bestellt:
Diesen Artikel haben wir am 26.11.2021 in unseren Katalog aufgenommen.