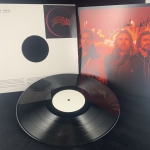 Products description
The second album "Sendung/Signale" stands for cold, dark pop songs and big melodies, more and more electronics are opposed to wave, punk and pop. An album that was created in nightly studio sessions and transfers this mood into the songs.
Furthermore, Genepool operate pop historical grave robbery. Here, Kraftwerk, PVC, Killing Joke, Sisters Of Mercy, Wipers and Bauhaus have their say. Here you can hear the continental and a very German alternative to what the island has been dictating to journalists' books for months. Not another Brit-Pop blend, but a self-confident punk rock manifesto full of glamor and energy and, above all, very danceable.
Customers who bought this product also bought the following products:
This Product was added to our catalogue on 11/02/2013.