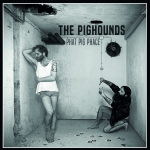 Products description
This album has the spirit of the late 80's and early 90's dripping from every pore and bringing it all into the present. Anything goes. Unbridled post-punk, wave rock, math rock, noise rock, indie, pop, dancefloor punk... ten songs that make up ISOSCOPE's debut album.
"Ten Pieces" whose sum seems considerably larger than the individual parts. An album that dissolves borders and despite the mix of styles works well as a whole and could become one of the big surprises for us in the new year.
Melancholic, catchy pop songs collide with loud, angry noise cascades or metal riffs. four(!) part singing, screaming, whispering, singing. The quietly rolling "The Beach" tells the lost in thought of the beach walk. "Wired" saws through the dance floor with Gang Of Four guitars. "World's End" is the short outcry in punk rock format. "Parts" comes with a sophisticated arrangement and polyphonic lead vocals...
Customers who bought this product also bought the following products:
This Product was added to our catalogue on 16/02/2022.