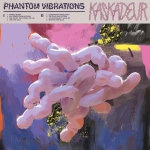 Produktbeschreibung
Vorbestellbar / Lieferbar Ende Februar!
Bestellungen mit anderen Produkten werden zurückgehalten, bis KASKADEUR "Phantom Vibrations" lieferbar ist und gemeinsam verschickt.

Das gelungen zweite Album von KASKADEUR! Hier das Video zur Single "Generation Absolution"
Eine großartige Reise von Prog, über Psych, zu den Trümmern von Stonerrock bis hin zu Indierock? Catchy und eingängig und immer in bestechender musikalischer Vielseitigkeit und Qualität. Ein Ausnahme Album.

Tracklisting:
Bubble Burst
All Comes From Nothing
The Truth, The Curse, The Lie
Join The Cult
Generation Absolution
The Post High Jitters
An Opportunity Gone By
Moving Particles
Diesen Artikel haben wir am 02.02.2023 in unseren Katalog aufgenommen.