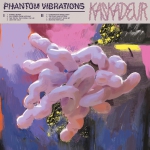 Products description
CD in jewel box.
CD booklet as an 8-page leporello leaflet with lyrics. Artwork by Saeid Tattoo. Band information: http://www.noisolution.de/band/lsd-on-cia
When asked what's new on the Copenhagen trio's second album, the answer comes succinctly: "Everything! Like the apes we have evolved." advancement. Evolution. So that's what it seems to be, but you're far from walking upright, because LSD ON CIA somehow always walk, climb, jump and dance at the same time. Here is the alternative to the enduring retro sound that is fresh, contemporary and innovative. Between indie and core, between prog and punk. After their self-titled debut, the Copenhageners have taken a big step and compressed and refined their madness.
BEATBLOGGER.de writes: "It's difficult to single out a highlight, especially since "Celestial Bodies" moves at a consistently exorbitant level... The new year isn't even a week old and an album has already landed that could have a decisive influence on 2016."
Customers who bought this product also bought the following products:
This Product was added to our catalogue on 09/12/2015.