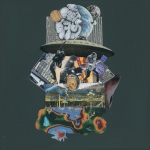 Products description
Best-of from the former Soul Coughing singer.
In the mid-nineties they were one of the most exciting and popular bands: Soul Coughing. With hits like "Super Bon Bon" and "Circles," the New York group caused a worldwide stir with their hip-hop and noise-influenced slacker jazz, bound for the top only to implode.
Now the voice of the band can be heard again: MIKE DOUGHTY As soon as the band was over in 2000, the singer was toting around America with just his guitar in the car and selling his CDs at concerts. In the meantime, four albums have been released on the renowned US label ATO Records, and Doughty is also introducing himself to Europe with the song selection "Introduction". The album mainly contains songs from Doughty's solo albums, but also EP and compilation contributions. "Introduction" also shows his solo development from the sparse, guitar-dominated songwriting style to a full one
Customers who bought this product also bought the following products:

Grande Roses - Disease - CD
This Product was added to our catalogue on 08/02/2013.