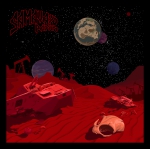 Products description
No one, absolutely no one, writes pop songs as beautiful as Miles in this country. Anyone who remembers the last album will quickly realize that since Miles no other band has recorded a killer song like Perfect World. However, "Don't let the cold in" cannot be compared to its predecessor "Miles". The songs aren't so steeped in strings and harmony anymore. And yet you can tell Miles that they have evolved. The songs aren't that playful anymore. No, they rock. One is often reminded of the friend band SLUT. And if the album doesn't convince everyone right away, the true greatness only appears after the third or fourth listen. But such albums are usually the best anyway and have what it takes to become classics.
Customers who bought this product also bought the following products:
This Product was added to our catalogue on 11/02/2013.