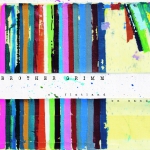 Products description
SONGS:
1.Echolot
2.Fette Kette
3.Scheusal
4. Rabensol
5.Volllast
6.Oktagon
7. Herrengedeck
8. Weltall Erde Rotor
Customers who bought this product also bought the following products:


TRACKLISTING:
Falscher Dampfer
Allmacht
Ferner Liefen
Abfahrt!
Vor dem Herrn
Druckverband
Rotor - Sechs - LP

Rotor - Fünf - plus MP3 Download Voucher, 8 Songs
This Product was added to our catalogue on 08/07/2015.