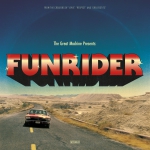 Products description
History Collection of lost albums, singles and compilation tracks. "the best of contemporary punk rock".
They are the good conscience of punk rock! What had already started in 1989 under the name "Ankry Simons" and has been able to conquer the hearts of the fans since the first album as "STEAKKNIFE" is still a highlight of the scene and a guarantee for great live shows. Confidently and without looking sideways, they concentrate on what they have mastered: PUNK ROCK.
It's not for nothing that their stage instructions say: "Steakknife are a very loud band... and are not liable for damage caused by undersizing the system". With Lee Hollis, one of the great personalities of the scene is the frontman at the microphone, who not only stands out for his time with the "Spermbirds" and "2Bad", but also for his books, readings and spoken word performances
Since the old albums, not to mention the singles or the tracks on compilations, are no longer available, this collection, which also presents rarities and B-sides as well as unreleased tracks, was released in 2005. A very fine piece that comes with stylish artwork: "STUFF 1991 - 2004".
Customers who bought this product also bought the following products:
This Product was added to our catalogue on 08/02/2013.