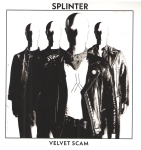 Products description
Monolithic to longing: the noise rock trio fascinates with contradictions.
Elms have rediscovered, developed and changed. The noise rock trio, formed in the early 90s, has matured and become more interesting, more versatile and more fragile, and yet they go to work with their usual hardness, anger and desperation. Tropic Of Taurus is a heavy, menacing and dark monolith, but also quiet and full of longing and love. The band around singer Arne Heesch draws its fascination from precisely these contradictions, cracks and breaks. Tropic Of Taurus was created with an old companion: Kurt Ebelhäuser (Scumbucket) not only produced, but also sings an impressive duet with Arne Heesch in Orpheus. Reduced, calm and waiting songs like Light In The Tree or Savior would have been unthinkable for Ulme years ago. Then again they indulge in sound, moods and anthemic arrangements like in Phoenix Awakens. The title Tropic Of Taurus is quite programmatic. It's about breadth and size. Elm have long been in their own tropic, far from other galaxies.
Customers who bought this product also bought the following products:
This Product was added to our catalogue on 11/02/2013.