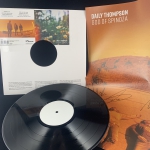 Produktbeschreibung
Hodja - Gym Bag "I Got The Devil on my Bag"
It´s so easy to be one of the hip guys...! Cooler Baumwollsack in schwarz mit "I got the Devil On My Bag" Aufdruck in weiß!
Weiße Baumwollkordeln. Groß genug, um drei LPs reinzustecken.
Das Artwork ist das Debutalbum von Hodja - "The Band".
Kunden, die diesen Artikel kauften, haben auch folgende Artikel bestellt:

Musikalisch prallen wieder ur-amerikanische Stile aufeinander. Nach der Rückkehr von Gamiel Stone aka Claudius Pratt nach New York scheint dies noch vielfältiger denn zuvor. Garage-Rock, Soul, Blues, Gospel treffen auf Hiphop Skills und Punkrock Riffs. Stilistisch kaum greifbar, aber zusammengehalten durch den reduzierten Stil, den einzigartigen Sound, die Attitude, die aus jeder Ritze quillt… abseitig, einzig und anders. HODJA sind zurück und bleiben eine beeindruckende und fesselnde Band.

CD im Digipack und 8-seitigem Booklet.

TRACKLISTING:
Everything Is Everything
The Sour Taste
The Flood
On And On
Ego
Not Karma
Big Tease
Never Kneel
The Void
Desperate Souls
Diesen Artikel haben wir am 16.05.2022 in unseren Katalog aufgenommen.