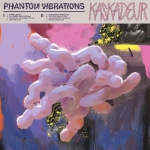 Produktbeschreibung
SOLD OUT!
Streng limitierte "CLUB 100" Edition in rosarotem 180Gramm Vinyl + Poster, 3 Fotos, Stickerfolie, DLC.
Klare Referenzen in den 90ern, aber frisch und zeitgemäß. Punk, Grunge, Alternativerock, Riot Grrrls zwischen Fuzz und heavy Riffs und vor allem stets mit großen Refrains und Melodien. Ein rotziges Album, das selbstbewusst und wiedererkennbar zwischen Späti und Sushi-Laden stattfindet.

Tracklisting:
Potface

Bitter Lollipop

Shamebath

Everything Sucks

Head On Collision

Everyman

J.T.

Death To

Topped With Cheese

White Swamp

Outro
Diesen Artikel haben wir am 23.02.2021 in unseren Katalog aufgenommen.