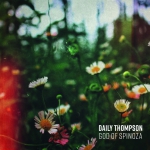 Products description
The "Club 100" sale starts on 09.May 2021 at 18 clock!
Strictly limited to 100 copies.
180Gramm colored Vinyl (Color: Mint green)
Additionally there is a poster, 3 hand signed photo prints, stickers, CD version incl. bonus tracks, PVC protective sleeve, hand numbered.
"Princess Tedymett" is the continuation of the Tschaika 21/16 universe. The madness goes into the second round. Between underground and concert hall, between metal, jazz and rubber duck. TSCHAIKA 21/16 has grown to a trio and has upped the "ideas per second" once again. Rhythmically even more complex, more sophisticated in sound, more melodic, more driving, more versatile, more vocals, more trumpets, more More...
Tracklist:
01. Teddymett
02. Cafe Flagranti
03. Wurscht on ze Rocks
04. KitaHupe vs Flipper am Limit
05. Kekse kaputt
06. GoTTdzillas Allzweckaffe
07. Prinzessin Ausbaus argwöhnische Ornithologie
08. Inter Lude
09. Mutti ist vom Klettergerüst gefallen
Customers who bought this product also bought the following products:
This Product was added to our catalogue on 28/04/2021.