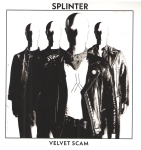 Products description
Barely a year after DAILY THOMPSON released their album "Oumuamua", they put the next long player on the turntable.
While the predecessor was still heavy, spacy and hypnotic, "God Of Spinoza" has further nuances in the sound palette. Deeply relaxed, 90s alternative rock sneaks into the heavy fuzz psychedelic blues. Pixies, Dinosaur jr or Sonic Youth are crushed in 5, 6 minute tracks and hunted through the Big Muff Super Fuzz. A perfectly chilled soundtrack for isolation, quarantine and social emptiness. A head-nodding audio cruise through empty city streets.
Customers who bought this product also bought the following products:
This Product was added to our catalogue on 26/11/2021.