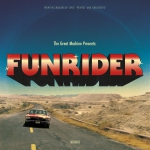 Products description
DIRTY SOUND MAGNET venture a new beginning with "Western Lies" and present a second debut. A wild album was created fresh, unbridled and full of ideas. A perceived debut album, but recorded in blind understanding of years of cooperation. After their frontman and singer could no longer keep up with the band's speed and demands, the trio started again.
Customers who bought this product also bought the following products:
This Product was added to our catalogue on 02/05/2017.