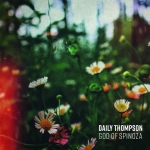 Products description
HODJA - We Are The Here And Now - LP (Firstpress colored Vinyl, lyrics, plus Downloadcode)
"We Are The Here And Now" continues to be unpolished, raw and explosive, but - as in the title track - also has its quiet moments. A trip, an explosive mixture, a cultural mélange. HODJA is boiled down, black Rock & Roll. Gospel, Soul, Voodoo, Rock, Punk, HipHop... They are the here and now!!
Customers who bought this product also bought the following products:
This Product was added to our catalogue on 20/10/2019.