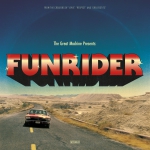 Products description
The second album can surprise again. Especially those who expected the catchy songwriting of the debut this time. The HODJA changed. He sneaks up, ducks away, and then strikes with cunning and cunning. Songs like "Gazelles", "Never Gonna Be Mine" or "Other Lovers" grab the listener again before he has even spelled the band name. Otherwise the new record is more subtle and a lot meaner.
Customers who bought this product also bought the following products:
This Product was added to our catalogue on 19/02/2020.