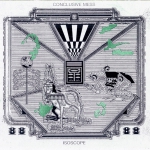 Produktbeschreibung
Hier nun endlich der zweite Teil dieser "Dilogie" - eine zweiteilige Veröffentlichung.
Weitere 8 Songs, die Claudius Pratt aka The Angery Man aka Reverend Shine zwischen Genie und Wahnsinn zeigen. Hier trifft sich amerikanische Musikgeschichte und verschmilzt zu etwas Neuem. Eine Prise Rock, etwas Gospel, vereinzelte Sprengsel von Jazz, Soul, Blues und ein Hauch Punk, gespielt mit Standbass, Akustik Gitarre, Drums und veredelt mit Harmonika, Posaune oder Klarinette. Treibend, rollend, groovend nimmt die Musik dich mit und vermittelt all das, was dieses Quartett on Stage so faszinierend macht. Und über allem schwebt der Schamane, der Hohe Priester, der Master Of Ceremony und nimmt dich mit.
Kunden, die diesen Artikel kauften, haben auch folgende Artikel bestellt:
Diesen Artikel haben wir am 27.05.2015 in unseren Katalog aufgenommen.