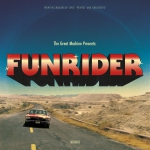 Produktbeschreibung
The Ballet Bombs - Mutations - 10inch (VÖ: 03.Juni 2022)

- Vorbestellung jetzt möglich. Wenn mehrere Alben bestellt werden, liefern wir komplett, wenn Ballet Bombs auf Lager ist -
Jung und wild und Glitter im Haar, ein Trio aus Eindhoven / Niederlande. Punk, Glam und Heavy Rock treffen auf psychedelische Soundorgien. Und trotz massivem Gitarren-Gewitter voller Reverb und Fuzz sind sie catchy und eingängig. Der Geheimtipp auf dem kommenden 2022er Roadburn Festival, bei dem die drei schon 2020 eingeladen und letztes Jahr in der Online-Variante per Stream zugeschaltet waren. Nun endlich auf echten Bühnen am 23. April in der "Hall Of Fame". Aufgepasst, da kommt was ganz Feines.

Tracklisting:
The Fliedieflatsie
Leave My Head!
Frankie Friendzone
Oh Girl!
Cannibal

Kunden, die diesen Artikel kauften, haben auch folgende Artikel bestellt:
Diesen Artikel haben wir am 14.04.2022 in unseren Katalog aufgenommen.