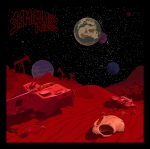 Products description
Back, although they were never really gone. It wasn't until 2016 that THE FLYING EYES went on a big European tour, but it still took a while for their fifth album. The work has become all the more impressive, bursting with self-confidence and good songs, full of riffs and sparkling ideas. Great artwork, great sound, perfect!
Customers who bought this product also bought the following products:
This Product was added to our catalogue on 04/09/2017.