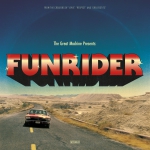 Produktbeschreibung
CDOASS sind aus Schweden, aus Fagersta, um genau zu sein. The middle of nowhere und doch ein Nabel der Rockmusik... denn aus dem kleinen Kaff stammen auch die HIVES. Deren Sänger Howlin' Pelle Almqvist hielt große Stücke auf CDOASS und so spielten beide Bands zusammen in Europas großen Rock-Tempeln.

Auch wenn der "Hauptsächlich in verschiedenen Punkvarianten, aber wir fühlten, das irgend etwas fehlte, und so haben wir begonnen zu experimentieren. Wir haben alles genau entgegen unsere Gewohnheiten getan", so Bassist Peter Nilsson. Und so entstand nach langer Zeit diese spezielle Mischung aus Synthi- Sounds und Punk-Gitarren. Nenn es No Wave, Wave, Elektro-Punk. "Extra fingers" kam 2005 raus und wurde von Christian Falk aufgenommen, der eher für House-Produktionen bekannt ist, aber auch mit Hip Hop Legende Notorius B.I.G. und Neneh Cherry zusammen gearbeitet hat. Ein Album, das schwer zu beschreiben ist und zwischen allen Stühlen Platz nahm.
Diesen Artikel haben wir am 11.02.2013 in unseren Katalog aufgenommen.