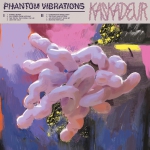 Products description
For COOGANS BLUFF, the album is the logical consequence after five studio works. Over the years, the quintet has played its way up the scene and is undoubtedly one of the fixtures in the "retro rock area". Full clubs and loyal fan following are statement enough. With their 2017 album "Flying To The Stars" they toured Europe, played countless festivals and initially recorded a few shows for their own use. Many great versions quickly emerged from this pool and the live album became independent and is now an album for fans, for newcomers and probably also for those who have not yet found their way into the world of COOGANS BLUFF.
Never easy, but never boring either. The band's joy of playing is audible in every second. Excessive songs, space for every musician and, above all, the album productions are not simply reproduced. A little rougher, harder, more excessive and yet skilfully played to the point. A fascinating band!
Customers who bought this product also bought the following products:
This Product was added to our catalogue on 03/11/2017.