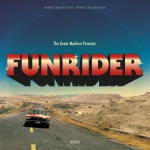 Produktbeschreibung
DIRTY SOUND MAGNET wagen mit "Western Lies" einen Neuanfang und präsentieren ein zweites Debüt. Frisch, ungezügelt und voller Ideen ist ein wildes Album entstanden. Ein gefühltes Debütalbum, aber in blindem Verständnis jahrelangen Miteinanders eingespielt. Nachdem ihr Frontmann und Sänger der geschwindigkeit und dem Anspruch der Band nicht mehr folgen konnte, startete man als Trio neu durch.

Von Zeppelin zu Ty Segall

Das Trio, bestechend filigran an den Instrumenten, musste umdenken und sich neu erfinden. Die alten Vergleiche mit Led Zeppelin und Hendrix sind vergessen, die instrumentale Feinheit und Vielseitigkeit ging jedoch nicht verloren, eine neue, eigene Art Songwriting kam dazu. Psychedelische Gitarrensounds fliegen durch den Raum. Wahwahs, Phaser und Echos duellieren sich und mehrstimmige Gesänge werden gekonnt arrangiert. Die Grenzenlosigkeit von Bands wie Primal Scream, Smashing Pumpkins und Ty Segall wurde aufgesogen.
Eine Band, die stilistisch schwer einzuordnen ist, irgendwo zwischen Retro, 70er Psychedelic und dem schwammigen Begriff Indierock. "Creative Rock". That's a new word but we like to call our music that." Ein unglaublich spannendes und vielseitig Album.
1 The Sophisticated Dark Ages (2007- Present)
2 Cash Cow Superstar
3 A Gutted Diva
4 Homo Economicus
5 The White Man's Burden
6 Western Lie
7 Eastern Flood
8 My Dolly Bird
9 Ecstasy Of God
10 …And Then We Die
11 The Poet And His Prophet
12 Merry People
Diesen Artikel haben wir am 02.05.2017 in unseren Katalog aufgenommen.