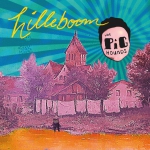 Products description
Brainwash" could also be a lost SupPop release in sound and artwork. This album gives you a great view into the band´s performance live on stage, long hair, sweaty, loud... stripped down to the bone with a big "Fuck You".

Lots of hardcore, punk, noiserock and grunge with all its 70s references. HATHORS are the generation that knows a grunge explosion from the ARTE documentaries and from record collections of parents, while you yourself discovered Refused, collected metal records and absorbed alternative rock of the 90s.


This Product was added to our catalogue on 23/04/2015.