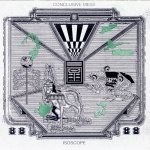 Products description
Debut or not Debut?
New name old band? New band with a new name? Those who know the scene know what to do with the band STONEHENGE, of course. The quartet released its debut in 2013, toured a lot and released other albums, EPs, cassettes, played tours and festivals. With the recordings for the current work, however, something didn't seem quite right anymore. The music felt new and fresh and different. Retro was in the past. Stoner too one-dimensional, the mood in the band euphoric. So without further ado, everything was set to zero: Debut number two. New name, new album, new band, new label. All of this took a while, but feels good.
AVAILABLE FROM 25.09.2020 !!!!!
"Uncanny Valley" is a full throttle ride down into the valley. Never straight ahead, hard on the guardrail. The curves cut, the abyss within sight and yet enjoying the view. Progressive, peppered with surprises and a touch of "pop appeal". Catchy songs and yet a psychedelic trip!
This Product was added to our catalogue on 31/08/2020.