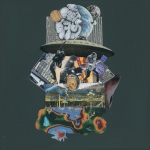 Products description
This band never had a master plan. But maybe that is exactly their secret that makes the sound so unique and special.
The media reactions from the metal, rock and alternative scene were already extremely positive at the debut and quickly made the trio an insider tip.
Now comes the second album, "Ausklingt", which in fact sounds as if the three of them are completely disengaging from everything and floating in their own soundscapes. An album that, full of joy in playing, presents a mixture that doesn't seem completely unusual, but clearly positions itself with its own recognizable sound.
The trio is definitely in the tradition of German 70s kraut and prog rock bands, but plays the genre stylishly into the present and mixes it with influences from stoner and psychedelic rock. Extended jams and instrumental playfulness pay tribute to their own past as an "open stage" session band. Now these jams meet heavy Doom riffs, scattered surf sounds and goal-oriented songwriting. All of this is topped by the ghostly-looking vocals, which get a lot more space on "Ausklingt" than on the debut album and now also do not shy away from German text passages.
Tracklisting:
Astrojelly

Voigo

Weltraumvolker

Ausgeklingt

Reboot

Zappenduster

Amygdala

Treibsand
Customers who bought this product also bought the following products:

Black Lung vs Nap - 12" Vinyl (Strictly limited - White 180gr Vinyl! + Download-Code)
This Product was added to our catalogue on 22/09/2019.