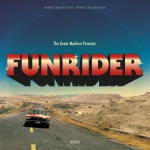 Products description
Rich And Kool is the name of the four-piece band from Berlin, which emerged from the electronic singer/producer duo Serge Kool and Rich. They have been an integral part of the lively capital scene since 2001, opposed the Mitte hype early on, sneaked into the Berlin Insane parties and played shows in Paris and Moscow. Besides that, Rich And Kool did remixes for Chikinki, IAMX and Bloc Party - the latter even being supported on their German tour.
Parts of their debut album "Back To You" were recorded in the rehearsal room in the new building, others in the Trixx Studios in Kreuzberg, among others. by Moses Schneider. "Back To You" is a contemporary and bold rocking album that shies away from clear comparisons. Here 25 years of dance floor are taken apart and put together again. Rich and Kool are just as rock as they are electronic, just as Brit-Pop as they are US-Indie or Euro-Disco. They're 80's and 90's, but mostly here and now.
This Product was added to our catalogue on 08/02/2013.