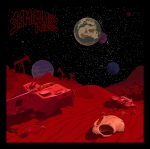 Products description
"Revolution:Lost" is the impressively menacing debut album by ROTOSKOP. A dark, grinding piece of electronics weighing tons on the Berlin label Nois-o-lution with well-known guests such as PHILIP BOA, FOETUS, RUBY, SUN, DAVID WOODWARD from the EXPERIMENTAL POP BAND, BRUDER & KRONSTÄDTA, and others.
ROTOSKOP, the electronic weirdo from Essen, is constantly looking for input, not afraid of contact and open to exchange. A wanderer between worlds. Inspired by the rhythmic experiments of well-known electronic acts like Squarepusher, Aphex Twin, Mouse on Mars, Schneider TM, Richie Hawtin or Massive Attack, as well as massively by the alternative department with acts like Nine Inch Nails, Neubauten, Joy Division, Depeche Mode or cave.
This Product was added to our catalogue on 11/02/2013.