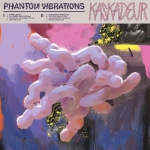 Produktbeschreibung
Mit "Done So Wrong" rückt die junge Band aus Baltimore ab von allzu offensichtlichen Anleihen bei den DOORS. Der Einfluss ist immer noch zu spüren, aber die Musik nimmt neue Facetten an und die Band entwickelt sich. Es wird schwerer, dunkler und die Band gewinnt an Charakter und Stil.
Wie schon das Debut wurde das Album auf World in Sound veröffentlicht.
Zehn Tracks im Digipack.
1. Death Don't Make Me Cry
2. Poison The Well
3. Nowhere To Run
4. Clouded
5. heavy Heart
6. Sundrop
7. Overboard
8. Done So Wrong
9. Greed
10. Leave It All Behind
Kunden, die diesen Artikel kauften, haben auch folgende Artikel bestellt:
Diesen Artikel haben wir am 04.06.2017 in unseren Katalog aufgenommen.