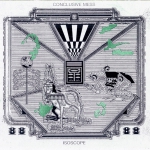 Produktbeschreibung
Das zweite Album von BLACK LUNG hat das Zeug zum Genre-Meilenstein!
Der Umgang von BLACK LUNG typischen Elementen wird abermals gekonnt zelebriert, ungewohnter, intensiver und innovativer, dass man Stilgrenzen ausweiten muss, um passende Worte zu finden. Eine Band die dermaßen heavy, aber ohne Bass ihre Riffs hinklotzt, setzt (selbst-)bewusst Zeichen und braucht keine Vergleiche zu scheuen. Trotz aller Schwere bleibt die Produktion transparent. Psychedelische Gitarrenwände türmen sich ins Unendliche, noisy flirrende Gitarrensounds, heavy Riffs und gleichzeitig diese Leichtigkeit und schwebenden Melodien, die BLACK LUNG schon auf ihrem Debut so auszeichneten, könnten durchaus neue Standards setzen. Time will tell.
"See The Enemy" ist produziert von J.Robbins, der auch schon bei Clutch oder The Sword den Pfad zwischen Heavieness und Melodien perfekt inszenieren konnte.
TRACKLISTING:
Behemoth
Ichor
Transmissions
Nerve
Crooked Finger
Priestess
See The Enemy
8MM
Kunden, die diesen Artikel kauften, haben auch folgende Artikel bestellt:
Diesen Artikel haben wir am 22.04.2016 in unseren Katalog aufgenommen.