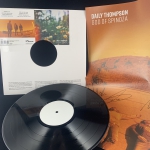 Products description
Scandinavians again! Norwegian! And again we are shown where Pete Townsend buys his strings. Somewhere up north is a place where the secret of rock 'n' roll is kept. Fresh, full of energy and ideas, but also stylish and authentic! SMOKE MOHAWK have been going their own way since 2007, but they are by no means newcomers, but have well-known bands like GLUECIFER, WE, TURBONEGRO or MY MIDNIGHT CREEPS in their family book.
Customers who bought this product also bought the following products:
This Product was added to our catalogue on 28/11/2012.