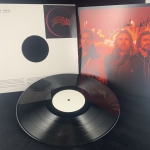 Produktbeschreibung
(Strictly limited edition - 100 Kopien)
Doppel LP in 180gr Re-Vinyl, Gatefold Cover, siginiertes 28seitiges 12 Inch Booklet, 4 Unreleased Tracks, schwarze Innenhülle, PVC-Schutzhülle geprägt mit Noisolution-Logo, Handnummeriert, plus Button!
2009 waren THE PICTUREBOOKS nicht mal volljährig, aber Songs, Ideen, Sounds und Stil zeigten, warum sie mittlerweile europaweit touren, Amerika ihre zweite Heimat ist und sie mit Musikern wie Chrissie Hynde, Dennis Lyxzén oder Cedrick Bixler Zavala arbeiten.
Wir veröffentlichten damals "List Of People To Kill" und "Artificial Tears" und beide wurden bei uns zu Bestsellern, obwohl sie nur als CD erhältlich waren. Nun also beide Alben erstmals auf Vinyl.
Tracklisting:
(List of People To Kill)
On The Go
List Of People To Kill
Bloody Lies
Prince Trafficlight
Machine
Take It!
Les Chats Noir
You Can Not Make It right
Marionette
Hustler
Simple Solution
20th Century Boy / Bonus
Push / Bonus

(Artificial Tears)
I Put A Spell On You
Twisted Truth / Misleaded Youth
I´m Drawing Hearts On Your Jeans
Running Out Of Problems
Sensitive Feelings All Electric
Dance Tiger Dance
Kiss Me Goodbye
Finders / Keepers
Artificial Tears
Personality Grown On A Tree
The Phone Won´t Ring For You Tonight
Secret Keeper / Bonus
Killher / Bonus
Kunden, die diesen Artikel kauften, haben auch folgende Artikel bestellt:
Diesen Artikel haben wir am 05.11.2020 in unseren Katalog aufgenommen.