The Man On The Burning Tightrope
The Man On The Burning Tightrope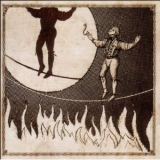 Das vierte Firewater-Album The Man On The Burning Tightrope baut einen riesigen Zirkus des Absurden auf, der Kabarett, Revue-Show, Jahrmarkt und Theater integriert. Das Zeltdach ist schwarz, die Beleuchtung sparsam, und der Direktor steht in der Manege und präsentiert abseitige Geschichten, wirre Gedanken voller Ironie und Gefühlen, Tragikkomödien voller Zynismus, große Dramen und gesellschaftspolitische Seitenhiebe.
Die Band spielt komplett durchgeschüttelten Alternative-Rock, auf dessen zerbröseltem Fundament sich Art-Rock, Kirmes-Musik, Kurt Weill'sche Themen, Cop-Shoot-Cop-Nachlässe, Jazz-Partikel oder verdrehter Pop ihre Plätze suchen. Und dann diese wortgewaltigen, bildhaften Texte aus der Feder von Tod A.: "Because it's such a cold day down here in hell/And it's such a long way, a long way to heaven/But it's okay because we're singing with the angels", singt er in dem hoffnunglosen Liebeslied "Anything At All". Auch in "Dark Days Indeed" ("We don't know who put this cup of life into our hands/But when we go our bones will bake upon the burning sands") lichten sich die dunklen Wolken nicht.
Willkommen in der Reality-Freak-Show. Lebensmüde sollten draußen bleiben, Defätisten haben freien Eintritt.