Land Of The Free-ks
Land Of The Free-ks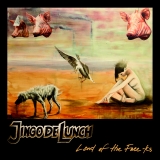 Comeback der Berliner Hardcore-Helden.
Da war sie wieder! Eine Band, die noch den Mauerduft in den Klamotten hat, die eine Dekade lang als Aushängeschild der deutschen Hardcore- und Punkszene galt, die innovativ war und stilistisch prägend. "Land Of The Free-ks" besitzt dieselbe Energie und Wut, die Jingo De Lunch Ende der 80er-Jahre versprüht hatten. Nun kehrte die Band um Sängerin Yvonne Ducksworth im neuen Jahrhundert überraschend auf die Bühne zurück. Die Clubs waren voll, alte und neue Fans tobten, schwitzen und feierten Jingo, als ob sie nie weg gewesen wären. Blieb die Frage nach einem neuen Tonträger, eine Frage, die "Land Of The Free-ks" mit frischer Härte beantwortet und zufrieden grinsende Fans hinterlässt.
Ducksworth Stimme ist dabei der Funken, der das alte Feuer entflammt.
Punks müssen weiter mit Metal-Gitarren leben, Metallern wird alles zu viel Punkrock sein und Rockklischees vom Cowboyhut und altem Kreuzberger Straßencharme ziehen dem Zeitgeist die Jutetasche übers Gesicht. Der Joker ist wieder im Spiel!