Celestial Bodies
Celestial Bodies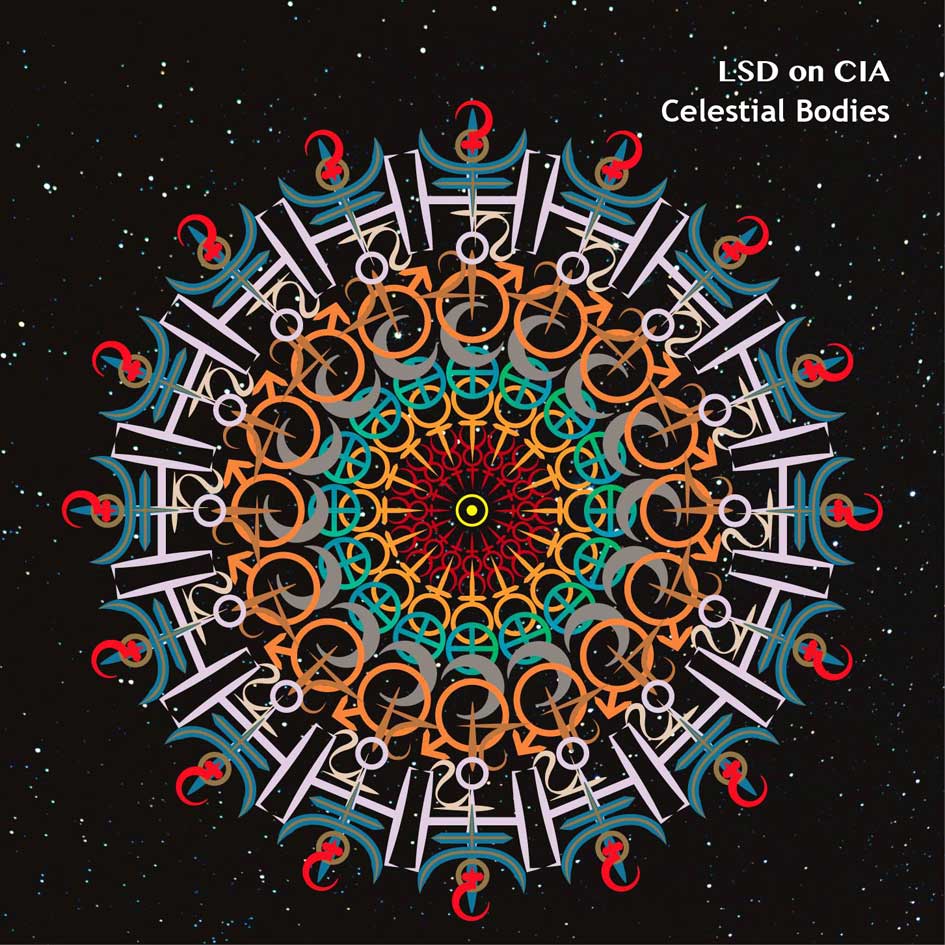 01. Assault
02. Waltz In the Symmetry
03. Heat Waves
04. Driver
05. Methyl
06. Deathpop
07. Interlude
08. Reconcile
09. Inner Animal
10. Lava Lamps
11. Fall In Place
Auf die Frage, was neu ist am zweiten Album des Kopenhagener Trios, kommt die lapidare Antwort: "Everything! Like the apes we have evolved." Weiterentwicklung. Evolution. Das scheint es also zu sein, aber man ist weit entfernt vom aufrechten Gang, denn LSD ON CIA laufen, klettern, springen und tanzen zeitgleich.
Zeitgemäß, innovativ und gegensätzlich
Wenn in der Musikpresse über den anhaltenden Retro-Sound genöhlt, aber ihm doch devot gefolgt wird, steht hier ein Gegenentwurf, der frisch, zeitgemäß und innovativ ist. Und bevor die alten Genre-, Sound- und Band-Vergleiche gezogen werden, kommt auch hier die fast philosophische Selbsterkenntnis der Band, was sie in Reviews wiederfinden wollen: "We've created our own style and sound, really what we would like to read in the papers is the feeling that our music creates in the listener." Denn aus genau so einem Gefühl entstand auch der Album Titel: "Celestial Bodies" – Himmelskörper. Ein Freund der Band versuchte zu beschreiben, was er da im Studio gerade hören konnte und zog den treffenden Vergleich. "Like objects in the sky. When you look at a shooting star. It can be a planet, meteor or whatever. It looks beautiful and calm. But really it's this huge, toxic and burning mass." Genau diese Gegensätze zeichnen LSD ON CIA aus und sollen auch von dem Mandala auf dem Artwork grafisch dargestellt werden. Abstoßend und anziehend zugleich. Chaos und Ordnung, Rock und Pop, hart und einschmeichelnd, "tricky and catchy". LSD ON CIA.
Definitely not Punk
Aufgenommen in einem Studio im polnischen Poznan, hatte man Zeit und konnte zwei Wochen ausgiebig ausprobieren und experimentieren. Anschließend gab man den Mix in die erfahrenen Hände des legendären Grapehouse Studios in Kopenhagen, aber hier sollte es irgendwie nicht zusammenkommen und dem Gefühl der Band entsprechen. Erst als man selber Hand anlegte und Mix sowie Master fertigstellte, nahm der Himmelskörper seine faszinierende Gestalt an. "Call it rock, hedonistic, melodic, progressive, thrash, not punk though, definitely not punk."
Allein reisend
LSD ON CIA sind eine großartige Liveband, die mit "Celestial Bodies" ein innovatives und spannendes zweites Album hinlegen. Sicher kein einfacher Weg, keine Nische, in der man sich einrichten kann, keine Szene, zu der man gehört. Aber sind nicht Himmelskörper auch trotz ihrer unüberschaubaren Anzahl auch immer allein Reisende?