Villa
Villa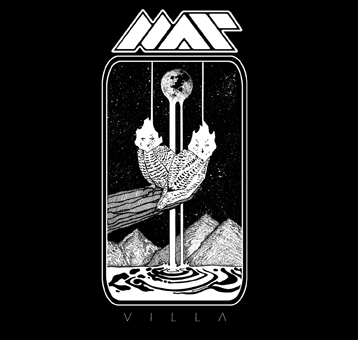 So muss ein Debut Album sein. Unbedarft, voller Spielfreude und ohne Kalkül. Frei, wild, zügellos und ausufernd. "Villa" hat all dies und zeigt in viele Richtungen, wo es für das Trio in Zukunft hingehen könnte, genauso wie es noch in der kurzen gemeinsamen Vergangenheit der Band verankert ist.
Psychedelisch, heavy und dann aber immer wieder diese spielfreudigen und leichten Session-Parts, die eine eigene Note ins Nap-Universum bringen. Genau wie die unerwarteten Twang-Gitarren-Sounds, die aus "alten Zeiten" stammen und durchaus  überraschende Farben ins Spiel bringen.
NAP sind eine Band, die aus Freude an gemeinsamen Jam-Sessions entstanden ist, die sich musikalisch gefunden hat, bevor erste Gedanken über Musikrichtung, Stile, Image oder sonstige Belanglosigkeiten auf den Tisch kamen. Es geht um Musik und um Musik machen. Und das hört man in jeder Sekunde.
In Momenten, in denen man sich auf Instrumental-Rock einigen will, kommen großartige Lead-Vocals, die den bombastischen Arrangements noch einen draufsetzen. Ausnahmesongs wie "Donnerwetter" oder das majestätische "Ungeheuer", dass quasi die Beschreibung des Songs schon als Titel trägt, wachsen mit jeder Minute – und kurz sind die Songs bei NAP nicht.
VISONS schwärmt von einer "klugen Kombination aus Doom, Krautrock, Psych und Hardrock" und "an jeder Ecke erwarten einen Tempowechsel aus dem Nicht, neue Ansätze und Klänge, überladen wirken die Songs allerding nie."
MOREFUZZ bringt seine Begeisterung schnell auf den Punkt. "If you have to listen to one album today this is it. A mindblowing piece of Heavy Psych all done in DIY mode, though the production is awesome" . Der Wegweiser des Heavy-Rock THE OBELISK hebt den Daumen mit einem kurzen: "No complaints." Und MUSIKREVIEWS fragte klar und deutlich "Ist das wirklich das Debüt einer jungen Oldenburger Band oder spielen da alte Hasen unter Pseudonym?"
8 Songs. 43 Minuten. Selbst aufgenommen und produziert in der "Villa", die eigentlich auch Proberaum und Wohnung ist. Ein DIY Debut, dass viel verspricht und in seiner spröden und ungestümen Art sicher viel Freude bereitet.
VILLA:
1. Donnerwetter
2. Sabacia
3. Duna
4. Larva
5. Xurf
6. Shitzo
7. Ungeheuer
8. Autobahn