Future Fluxus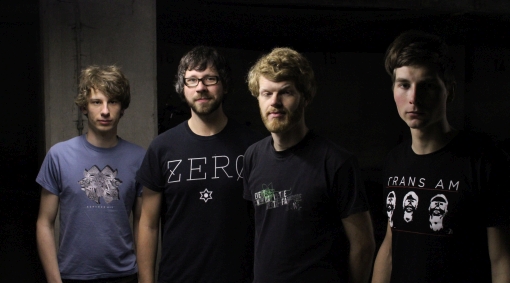 Brandgefährlich: Mathrock, Progrock, Indie-sonst-was-Core aus Berlin.
Future Fluxus – da steckt viel Interpretation drin – Nonsens, Kunst, Musik. Letztendlich ist es alles auf einmal und klingt auch noch gut. Ein Name für die Zukunft. Wut, Energie, Wahnsinn, eine Menge Spielfreude und Spielkunst.
Future Fluxus sind ein Quartett aus Berlin, das mit seiner Musik einfach fesseln will, emotional aufwühlen, fordern und berühren. Ein Trip in die Moderne, in die Zukunft oder einfach unter dunkelste S-Bahn-Brücken in Präsidentenpalastnähe. Diese Musik polarisiert. Und funktioniert: wie Radiohits, die einen nach 30 Sekunden gefangen nehmen und nicht mehr freilassen. Nur passiert das auf "Fuck The Universe And Say Yeah!" alle 30 Sekunden aufs Neue, immer wieder und immer unter anderen Vorzeichen, auf einer anderen Zeitebene. Nenn es Mathrock, Progrock, Artrock, Indie-sonst-was-Core, und doch ist Platz für Ruhe, für Pop und feinste Melodien. Alte Bekannte aus dem Umfeld von Kate Mosh, Ter Haar und der Sinnbus-Clique haben sich hier getroffen. Als Future Fluxus füllen sie musikalische Molotow-Cocktails, die dein Hirn entflammen.
Future Fluxus sind übrigens "Fluxus of the past". Ohren auf, da gibt es Neues… van Urst.