Splinter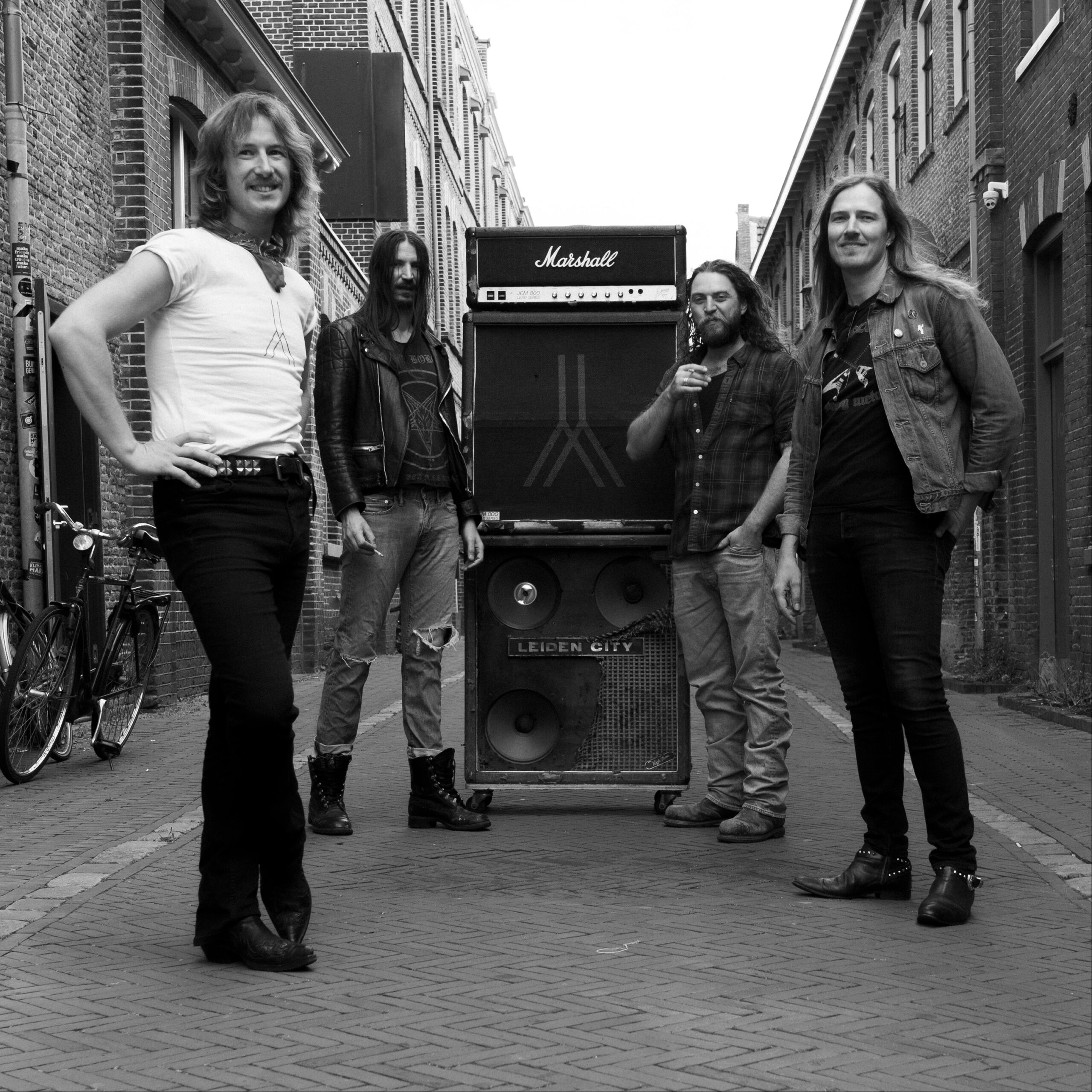 BIRTH OF JOY und DEATH ALLEY, zwei der besten holländischen Livebands, spielten eine gemeinsame letzte Tour und fielen auseinander. Wie nah "birth" und "death" sich manchmal sind, zeigt sich auch hier. Nach der Tour fanden sich Teile beider Bands im Proberaum wieder und gründeten SPLINTER. Das Debutalbum kam über Robotor Records, dem von KADAVAR gegründeten Label, die dann neben eigenen Bandaktivitäten zu wenig Zeit fanden und die Band dankenswerter Weise an Noisolution weiterempfohlen haben. Da mussten wir nicht lange überlegen…
SPLINTER stellen musikalisch alles in Frage und schmeißen ihre Vorlieben und Einflüsse zusammen. Tanzbar, sleazy, voller Pop und doch ein feistes Heavy Rock-Album. Vieles erinnert an die späten 80er, als Rock orientierungslos aber voller Ideen in alle Richtung auseinander flog. Punk war beendet, Wave vorbei, Metal kam, Alternative Rock klopfte an die Tür… SPLINTER haben von allem etwas. "Heavy rock 'n' roll" is pretty accurate. Sometimes I also refer to the punk foundations of the band, because it's cheeky, defiant and unorthodox", so Sänger Douwe Truijens.
Der größte Unterschied zum Debut Album ist, dass man Mario Goossens (Drummer von Triggerfinger) als Produzenten für die neue Platte gewinnen konnte und, dass man sich viel Zeit zum Schreiben und Aufnehmen genommen hat. "Very unique is the punk sound with a Hammond organ and the energy and dance-moves of the singer" sagt Douwe mit einem Lächeln "to me it's very important that the songs are catchy and danceable. I always love bands that have that. It doesn't have to be soft music to be poppy, it can still rock heavily and make your hips swing."
Songs wie "Velvet Scam" oder "Bottom" lassen die Discokugel rotieren, wobei "Every Circus needs A Clown" eher Platz für Duelle zwischen Gitarre und Orgel lässt. Frech, trotzig und unorthodox bewegt man sich man zwischen den Stilen. Und sortiert sich ein zwischen Blondie und Iggy, Viagra Boys und The Who, Hanoi Rocks und Killing Joke. Ein zeitgemäßes und frisches Retrorock Album, das tanzbar ist, das groovt, rockt vor allem aber Spaß macht und eine fantastische Liveband ankündigt!
Und auch das Artwork ist eine klare Verneigung vor Pop bzw. Pop Art und erinnert an Warhol oder Lichtenstein. Der BananenMann zeigt, was die heutigen Vorbilder der Welt sind: "just fruits in suits". Politische Führer und sogenannte Influencer sind "Role Models", schick gekleidet, aber leer und wegwerfbar. Alles Plastik, alles unecht, Image statt Botschaft und Aussehen statt Inhalt. Das waren auch die Stichworte, die statt einem Grafiker der AI gegeben wurden, die das Bild kreierte, wie Douwe begeistert ausführt: "Suddenly the following phrase came to mind: An Andy Warhol style banana wearing a three-piece suit. I typed it, pressed enter, and… there it was – exactly what I was looking for. A super strong image, a bit silly but very recognisable." Und vielleicht hat die künstlische Intelligenz doch mehr zu bieten, denn plötzlich wurden die Verlinkungen zu allen Seiten sichtbar: "What I find very cool about the image is that it is a modern-day version, or let's say our variation, of the Minor Threat bottled violence image. The only difference is that Minor Threat criticised other punks with their image, while we criticise the mainstream elite."