xBomb Factory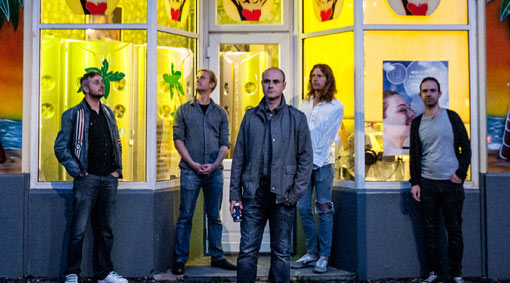 Warboys! Eine Gemeinde in der Grafschaft Cambridgeshire. Englisches Niemandsland. Provinz. Weit weg von London, Liverpool, Manchester oder sonstigen Verweisen auf britische Popkultur. Und doch, allein der Name Warboys klingt wie ein klares Statement, ebenso wie der Bandname oder der Album-Titel eines ist! Fremder, kommst du nach Warboy… gib Gas und schau dich nicht um.
xBOMB FACTORY stehen für Wut, Angst und Unzufriedenheit. Kritik und Meinung eingebettet in die berühmten drei Akkorde. Klar formulierte Aussagen und keine adoleszenten Mitgröhl-Parolen. In jedem Ton und jedem Wort steckt Überzeugung, die in Tradition von englischem Postpunk der späten 70er und frühen 80er steht, bevor er zum lustigen Genre-Etikett verkam und in der Disko verendete. In jeder Silbe, ist diese Wut zu spüren, Sarkasmus und Ironie. Postpunk, Postwave, stampfende Rhythmen, atmosphärische Gitarrenteppiche und eine Seelenverwandtschaft zu Mark E Smith in Höchstform.
Hier und da klingen neben The Fall oder Crass, auch Gang of Four oder – wenn man es aktueller möchte – Savages durch, jedoch ohne jedes Lifestyle-Design oder Artschool-Ausbildung. xBOMB FACTORY sind mehr "working class". Das Quintett ist ein Gegenentwurf zum durchdachten Popprodukt der englischen Musikindustrie. Unfertig, direkt, unproduziert und schroff. Hier wird der Finger auf Wunden gehalten, ohne sie vorher zu waschen und ohne Heilungsabsicht. Keine Wort-Akrobatik und verdrehte, politisch korrekte Stellungnahme. Kein Wenn und Aber, sondern direkt und unverblümt und geradeaus.