Navel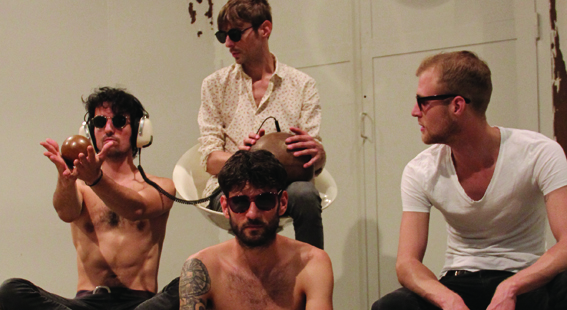 Seit 2004 ist  Jari Antti  – Frontmann, Gitarrist und Sänger – der kreative Lenker bei NAVEL und scheinbar hatte er mit dem dritten Album "Loverboy" endlich die richtigen Mitstreiter gefunden. NAVEL waren mehr Band denn je. Jari Antti lenkte die Band und bestimmt die Richtung, wobei nun mit Massimo Tondini, Marco Naef und Jacob Laeser die richtigen Sidesmen gefunden wurden, die selber ihren Stempel aufdrücken, die NAVEL noch mehr zu einem Live-Erlebnis werden ließen und die mit "
Loverboy
" und dem Folgealbum "
Songs of Woe
" zwei beeindruckende Meilensteine einspielen konnten.
Ganz in Nirvana-Manier ließen die Schweizer zu Beginn ihrer Karriere den 90er-Grunge auferstehen, hauten mit dem Debüt (noch auf Louisville Records) mächtig auf den Putz und ließen vor allem den Live-Ruf der Band auferstehen. Rohe, wilde Rock-Shows mit einem charismatischen Frontmann.
"Neo Noir" (2011)
2011 kam dann  "Neo Noir", das dunkel, schwer, noisy und mit einer beklemmenden Atmosphäre daher kommt. Ein Album, das nur noch wenig mit dem Debüt vereinte. Ein Feedback-getränktes Werk mit den Füßen im Blues.
"Loverboy" (2013)
2013 folgte "Loverboy", das wieder mit einer Änderung in der Band-Besetzung, aber auch im Sound überraschen konnte und viele Americana-Einflüsse offenbarte. Die Blues-Einflüsse wurden deutlicher, Folkrock kam hinzu, aber immer noch diese dunklen, fiebrigen Sounds des Vorgängers.
"Songs of Woe" (2014)
2014 schließlich das vierte Album "Songs of Woe", das erneut überraschen konnte und eine Band zeigt, die gereift ist, die nie auf der Stelle trat und den Anspruch hatte, international dabei zu sein. Nicht zuletzt die lang gesuchte und scheinbar endlich gefundene feste Besetzung der Band zeigte neue Stärken. Shows in der Schweiz, Österreich, Deutschland, Frankreich, Polen, Holland, Amerika oder in der tschechischen Republik zeigten eindrucksvoll den Status der Band.
Auflösung (2015)
2015 gab die Band nach 13 Jahren ihre Auflösung bekannt.